Donations
Donate – Help us to help
Support us to help others.
Donation account
Please send your donations to:
Ovarian Cancer Foundation
Bank for Social Economy
IBAN: EN78 1002 0500 0001 2065 00
BIC: BFSWDE33BER
Charity SMS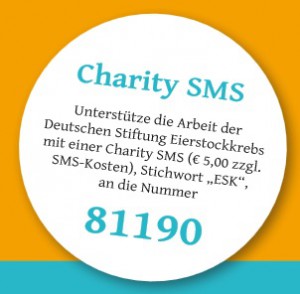 Donate quickly and easily via Charity SMS:
Send an SMS to 81190 with the password "ESK".
You then automatically donate EUR 5,00 to the Foundation. The amount will be charged on your phone bill.
Information about your donation
Your donation is tax-deductible. Regular donations can of course be changed or terminated at any time without notice.
Keep administrative costs low: If you choose direct debit, we do not incur any booking costs.
Donation receipt
If required, we issue our donors with a donation receipt. Please send us your name, address, when and how much you donated.